Before we Start
Hey Everyone! Welcome to my blog, I hope you all are doing good.
Today in this article, we will discuss about the social media platform, Instagram. Moreover, we will discuss how you can use Instagram to learn new things daily and for your career growth.
The primary goal of this article is to make you aware of some best Instagram pages where you can get programming and cybersecurity/hacking tips in form of easily understandable infographics and carousels. So, without further ado let's get started.
Note

I highly recommend you not to spam their inbox for social media hacking. If you do so, they will never hesitate to block you right away, because they don't do that on Instagram.
List of Best Instagram Pages

This Instagram account mainly focuses on sharing Cyber Security related content with a pinch of other tech content. Currently, Cyber Tech Society has more than 100,000 Followers on its Instagram account.
Recently, He has launched a book named, "HACKING: A GLITCH IN THE SECURITY" for those who want to see themselves in the field of cybersecurity in the future. Here is the link to buy his book – BUY NOW.
One more Instagram account in this list who shares content on Cybersaftey, Programming, and Tech tips-tricks, He is also an affiliate marketer and helping his interested followers to earn lakhs every month by doing affiliate marketing.
For marketing and business-related content, he has a separate account. You can check it out here (click here).
The main focus of this account is on cybersafety, programming, and other technologies. He also has a blog on which currently you are reading this article.
Charlie is India's Youngest Most Famous Cyber Security Expert. At the age of 17, Charlie is handling a huge community in India.
He is IBM Certified, CNSS Certified Network Security Specialist, and Aviatrix Certified Engineer. He is Self Taught Ethical Hacker, Pen Tester, Bug Hunter, etc.
He is also an author of two hacking eBooks – i) Hacking: The Digital Art and ii) Hacking Cosmos. So, go and check out his both accounts.
The main intention of this account is to educate and spread awareness among the public about cybercrime, ethical hacking & cybersecurity. Their goal is to build a safer Cyber World. This account has nearly 30,000 followers on its Instagram account.
The Admin of this account has a good knowledge of Ethical Hacking, Cybersecurity, and Web Development. You can check his certifications on his portfolio site here.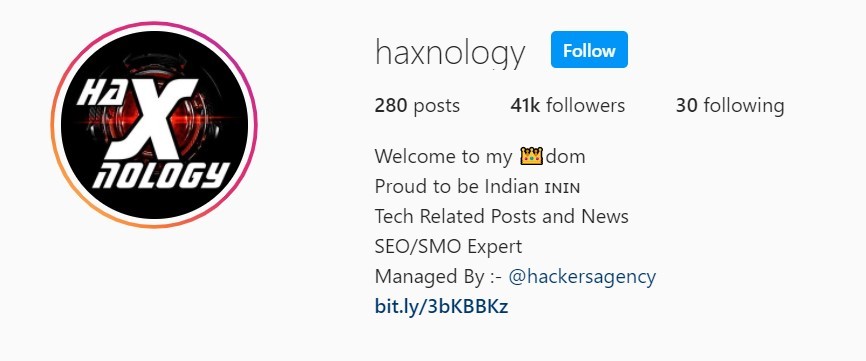 Haxnology is also a good Instagram account for Computer Science related content. They share Tips and Tricks related to Computer science and Ethical Hacking.
This account has more than 40,000 followers on their Instagram account as you can see in the above screenshot.

Just another Instagram Account that shares Cyber Security related content. The Admin of this site is a white hat hacker. As He mentioned in his bio that he is a self-learner, he can guide you in learning things by yourself.
Currently he has more than 40,000 followers on Instagram as you see in the screenshot attached above.

On his Instagram account, you can find both, Ethical Hacking and Tech tips n tricks content.
On his first account @trickyhash, he is sharing series on Ethical Hacking from Beginner to Advanced & His second account @trickyhash2.0 mainly focuses on tech-related tips and tricks.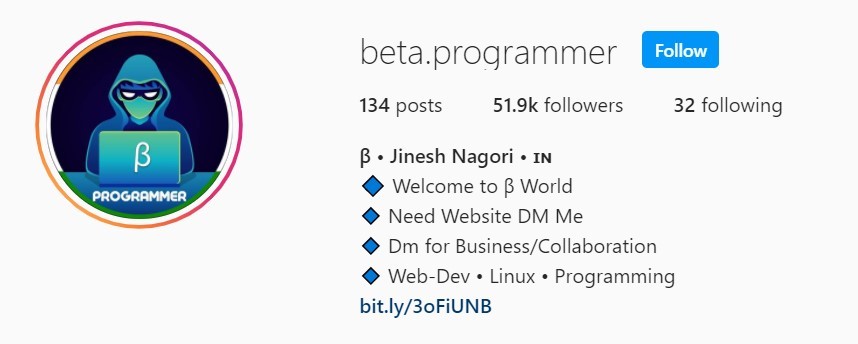 Beta Programmer is an Instagram account mainly for programming and web development. The admin of this page is Jinesh Nagori. He has knowledge of Web development, Linux, and Programming.
Currently, Beta Programmer has more than 50,000 Followers on their Instagram Account.

Sagarintech is an Instagram account mainly for Cybersecurity. The admin of this page is Sagar Pandey. He knows about Cybersecurity, Networking, and Web Development.
Currently, Sagar has around 40,000 followers on his Instagram account.

Meet Pratik Dabhi, He is Professional Ethical Hacker, below-mentioned points (or his Instagram bio) describe him:
👨🏻‍💻 Ethical Hacker
🐞 Bug Hunter | Penetration tester
👨🏻‍💻 Security Analyst @Deloitte USI
☢️ Bugcrowd Top 200 | SRT | Synack Envoy
🔥 YouTuber (17k+ Subs)
Visit here for more details about him:- pratikdabhi.com

This account mainly focuses on Cyber Security Awareness and Ethical Hacking, Admin of this account knows Ethical Hacking, Bug Hunting, and Full Stack Development.

Techacks, your number one source for learning Hacking and Programming.
They started working on their Instagram in June 2020 on Topics related to Cybersecurity and Programming. Currently, they have more than 100,000 followers on Instagram.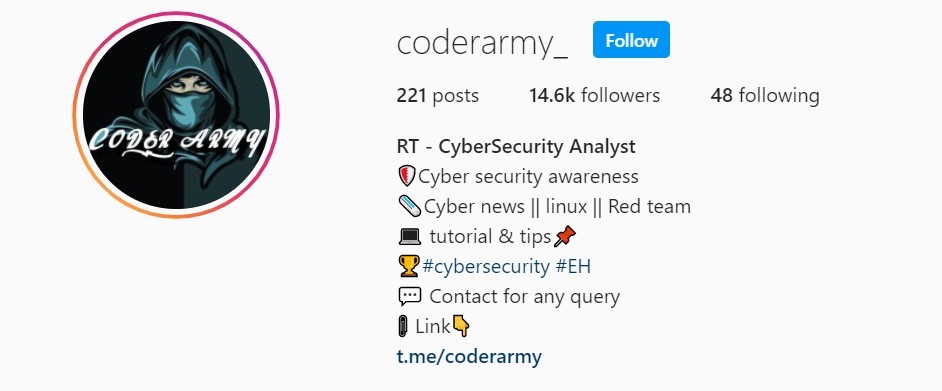 This account mainly focuses on Cyber Security and help new Cybersecurity Enthusiast to get familiar with the cyber world. They are also working on awareness programme to help people to be safe and secure!
The admin of this page is a computer science engineer working as a full-stack web developer and expanding his horizon in cybersecurity for the past 3 years.
Final Words
All the accounts mentioned above are sharing top-quality content under their specific niche. Don't waste your time on Instagram in consuming shit, go follow them and get most of this social media.
We'll be adding more accounts (check comments) to this list in the future, so I recommend you to bookmark this page and Allow notifications on this blog to get notified every time I share any informative article on this blog.
Also Read
Best Laptops Under 50000 in India 2021
How to Speed Up Windows 10 Computer/Laptop?
Computer vs Laptop – Which is best? What should you buy?